Norfolk based tour operator, The UK Holiday Group, who own various different tour operating brands including; Grand UK Holidays, SunriseDirect, just for groups!, Glenton/Glenton Palmer and hotel chain; Grand UK Hotels, have been busily raising funds at their Norwich headquarters for local charity, St. Martin's Housing Trust.
St Martin's Housing Trust work tirelessly to improve the lives of the most vulnerable and increase compassion in the Norfolk community. Established in 1972, the charity have achieved some tremendous accomplishments throughout Norfolk helping the most vulnerable within our society whilst advocating compassion through education.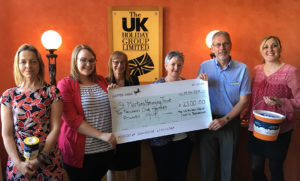 The UK Holiday Group's Charity Committee elected St. Martin's Housing Trust as their chosen charity from April 2017 through to April 2018 and have, in total raised, £2,100 through various fund raising activities including dress down days, cake sales, quiz nights and staff donations.
The very local connection was a key factor in supporting the charity and The UK Holiday Group are delighted to have been able to help such a wonderful cause. Nicki Beevis, Head of the Charity Committee, commented:
"Living and working in the centre of Norwich can really open your eyes as to how bad the homeless situation can be. We invited St. Martin's Housing in to discuss the homeless situation in Norwich to the staff based at head office. It was insightful for us all to learn and understand the work they do and how the money we've raised will directly help local vulnerable people. It's a tremendous charity, like most unfortunately, underfunded, so every penny raised really will make a positive difference."
The UK Holiday Group Charity Committee has a 'Match-It' pledge where they will match any funds up to the amount of £250, for staff raising money for charity events outside of work, as well as with in the business and towards their annual chosen charity.